The Conceptual World of the Ghadarites
Keywords:
Ghadar movement, historical consciousness, colonialism, social theory, Indic Enlightenment, non-dualism, secularism, federalism, anarchism, socialism, communism, resistance.
Abstract
The Ghadar movement is framed by scholars variously as socialist or proto-communist, anarchist, secular or religious nationalist. These theoretical frames developed in the European historical contexts to oppose liberalism and modernism. Framing historical experiences of colonialism and resistance to it by using theories developed in radically different conditions of European capitalism and Enlightenment, disrupts history-writing and the historical consciousness of people in the Third World.  This paper examines the historical consciousness that guided Ghadar resistance to colonial rule. How are we to understand the distinction between system and 'lifeworld' that Jurgen Habermas makes in a context where the 'system' is capitalist /imperialist/ modernist and the 'lifeworld' is South Asian/ Indian Enlightenment/ colonial? What was the 'lifeworld' of the Ghadar leaders that informed their understanding of nationalism and state, secularism and religion, liberation and justice? Theories contribute to creating historical consciousness and identity by showing us a view of the world that we can identify with, by providing a sense of continuity with the past. Disruption of South Asia's historical consciousness has had profound consequences for the people of the subcontinent. This paper locates the Ghadar movement in the structural transformations of South Asia after the end of the First War of Independence in 1857 known as the Great Ghadar. The paper takes common theoretical lenses used to analyse the Ghadar movement in academic scholarship: secular and ethno-religious nationalism, anarchism and socialism as its point of departure to sketch the theoretical and philosophical routes through which Ghadar leaders arrived at comparable values and political positions. It shows how they could be secular, religious, anarchist and socialist simultaneously. The Ghadar movement is important because it is the last major resistance movement that saw South Asia through South Asian lenses and attempted to address problems of colonialism and national independence in ways that was consistent with Indian historical consciousness and cultural and intellectual traditions.
References
Abbott, Freeland. 1962. "The Decline Of The Mughul EmpireE And Shah Waliullah." The Muslim World 52 (2):115-123.
Adams, Matthew S. 2011. "The World That Never Was: A True Story of Dreamers, Schemers, Anarchists and Secret Agents/New Perspectives on Anarchism, Labour and Syndicalism: The Individual, the National and the Transnational/Anarchism and Moral Philosophy/Post-Anarchism: A Reader." European Review of History: Revue européenne d'histoire 18 (5-6):851-856.
Ali, Prof. Abdul. 2008. "Role of Maulana Barakatullah in the Freedom Struggle of India." In The Contribution of Raja Mahendra Pratap and Prof. Barakatullah Bhopali in Freedom Struggle and its Importance in Contemporary Society, edited by M. Hassan Khan and Ayisha Rais Kamal, 15-22. Kolkatta: Towards Freedom; Maulana Abdul Kalam Azad Institute of Asian Studies, Kolkatta.
Amir Khan, Shahid. 2014. "Displacement of Shal Walliullah's Movement And Its Impact On Northern Indian Muslim Revivalist Thoughts." Journal of the Research Society of Pakistan 51 (2).
Anjum, Tanvir. 2013. "A Voice from the Margins: An Appraisal of Ubaid-Allah Sindhi's Mahabharat Sarvrajia Party and its Constitution." Journal of Political Studies 20 (1):159-177.
Ansari, Humayun. 2014. "Maulana Barkatullah Bhopali's Transnationalism: Pan-Islamism, Colonialism, and Radical Politics." In Transnational Islam in Interwar Europe, edited by Umar Ryad and Gotz Nordbruch, 181-209. New York: Palgrave Macmillan.
Aslam, Juhi. 2008. "Life History of Maulana Barakatulla Bhopali." In The Contribution of Raja Mahendra Pratap and Prof. Barakatullah Bhopali in Freedom Struggle and its Importance in Contemporary Society, edited by M. Hassan Khan and Ayisha Rais Kamal, 36-44. Kolkatta: Towards Freedom; Maulana Abdul Kalam Azad Institute of Asian Studies, Kolkatta.
Barakatullah, Mohammed. 1895. "Islam and Soofeeism." Westminster Review Jan 1852-Jan 1914 144 (July 1895):674-678.
Barakatullah, Mohammed. 1903. "Islam and Democracy." ARENA XXX (3):256-267.
Barakatullah, Mohammed. 1925 [1924]. The Khilafet. 2nd ed. London: Luzac & Co.
Barkawi, Tarak. 2012. "Army, Ethnicity and Society in British India." In The Indian Army in the World Wars, edited by Kaushik Roy, 419-443. Leiden; Boston: Brill.
Court of Directors, East India Company. 1833. Minutes of Evidence Taken Before the Select Committee of the House of Commons on the Affairs of the East-India Company, February 28th to July 9th, 1832 VI Political or Foreign London: J L Cox and Son,.
D'Souza, Radha. 2012. "Imperial Agendas, Global Solidarities and Socio-legal Scholarship on the Third World: Methodological Reflections " Osgoode Hall Law Journal 49 (3):6-43.
D'Souza, Radha. 2014a. "Revolt and Reform in South Asia: Ghadar Movement to 9/11 and After." Economic & Political Weekly (Special Articles) XLIX (8):59-73.
D'Souza, Radha. 2014b. "What Can Activist Scholars Learn from Rumi." Philosophy East and West 64 (1):1-24.
D'Souza, Radha. 2017. "Victor's Law?: Colonial Peoples, World War II And International Law." International Comparative Jurisprudence 3 (1):67-84.
Dispatch from Lieut-gen Sir T. Hislop, Bart. G.C.B., to the Governor-gen in Council, dated Sept 10, 1819. 1820. "Papers Relating to the Killedar of Talmeir." The Asiatic Journal and Monthly Register for British India and its Dependencies 10 (July-December):55-60.
Dua, J.C. 1974. "Nature of the Poligar Revolts in the Ceded Districts During the First Half of the Nineteenth Century: A Case Study." Proceedigs of the Indian History Congress, 35rd Session Nagpur 234-244.
Fuchs, Stephen. 1965. Rebellious Prophets: A Study of Messaianic Movements in Indian Religions. Bombay: Asia Publishing House.
Ghosh, Ranjan. "Institutionalised Theory, (In)fusion, Desivad." Oxford Literary Review:25-36.
Gill, Parmbir Singh. 2014. "A Different Kind Of Dissidence: The Ghadar Party, Sikh History And The Politics Of Anticolonial Mobilization." Sikh Formations 10 (1):23-41. doi: 10.1080/17448727.2014.890800.
Gilmartin, David. 1991. "Democracy, Nationalism and the Public: A Speculation on Colonial Muslim Politics." South Asia: Journal of South Asian Studies 14 (1):123-140.
Graeber, David. 2002. "The New Anarchists." New Left Review 13:61-73.
Habermas, Jurgen. 1984. The Theory of Commuicative Action. Translated by Thomas McCarthy. Vol. 1. Boston: Beacon Press.
Hawley, John Stratton. 2015. A Storm of Songs: India and the Idea of the Bhakti Movement. Cambridge, Massachusetts; London, England: Harvard University Press.
Heehs, Peter. 1993. "Terrorism in India During the Freedom Struggle." The Historian 55 (3):469-482.
Holloway, John. 2010. Change the World Without Taking Power. London: Pluto Press.
Joshi, Shashi, and Bhagwan Josh. 2011 [1992]. Struggle for Hegemony in India: A History of the Indian Communists Vol 1: The Irrelevance of Leninism. New Delhi: Sage.
Joshi, V.S. 1959. Vasudeo Balvant Phadke: First Indian Rebel Against British Rule. Bombay: D.S. Marathe.
Kaur, Harwinder. 2011. "'History' In Popular Movements : British Punjab, 1849-1947." PhD, Department of History, Faculty of Social Sciences, Punjabi University Patiala (17-BZFS(M)88).
Khan, Ayub. 03-10-2010. "Mawlana Barakatullah: An Indian Muslim Revolutionary in America." The Muslim Observer, accessed Access date 02/10/2016. http://www.ilmgate.org/mawlana-barakatullah-an-indian-muslim-revolutionary-in-america/.
Khan, M. Hassan, and Ayisha Rais Kamal, eds. 2008. The Contribution of Raja Mahendra Pratap and Prof. Barakatullah Bhopali in Freedom Struggle and its Importance in Contemporary Society. Kolkatta: Towards Freedom; Maulana Abdul Kalam Azad Institute of Asian Studies, Kolkatta.
Khan, Mohammed Ayub. 2013. "His Master's Voice?: Ubayad Allah Sindhi's Re-interpretation of Orthodox Islam as Inclusive Revolutionary Ideology." In Interpreting Ghadar: Echoes of Voices Past Ghadar Centennial Conference Proceedings October 2013, edited by Satwinder
Kaur Bains, 99-116. Abbotsford, BC, Canada: Centre for Indo-Canadian Studies University of the Fraser Valley.
Khan, Mohammed Ayub. 2014. "Universal Islam: The Faith And Political Ideologies Of Maulana Barakatullah 'Bhopali' " Sikh Formations 10 (1):57-67. doi: 10.1080/17448727.2014.888246.
Lorenzen, David N. 1978. "Warrior Ascetics in Indian History." Journal of the American Oriental Society 98 (1):61-75.
Marx, Karl. 1987 [1843]. "On the Jewish Question." In David McLellan: Karl Marx Selected Writings. Oxford: New York: Toronto Oxford University Press.
Matilal, B K. 2004. Logical and Ethical Issues: An Essay on Indian Philosophy of Religion New Delhi: Chronicle Books.
Noor, Farish A. 2011. "'Racial Profiling' Revisited: The 1915 Indian Sepoy Mutiny in Singapore and the Impact of Profiling on Religious and Ethnic Minorities." Politics, Religion & Ideology 12 (1):89-100. doi: 10.1080/21567689.2011.564404.
Oberoi, Harjot. 2009. "Ghadar Movement and Its Anarchist Geneology." Economic & Political Weekly (Special Articles) 44 (50):40-50.
Omissi, David. 1999. Indian Voices of the Great War: Soldiers' Letters, 1914-1918. Houndsmill, Basingstoke, Hampshire: Macmillan Press.
Pal, Savinder. 1992. "Activities of Sardar Ajit Singh Abroad." The Panjab: Past and Present XXVI-II (52):54-60.
Patnaik, Dr. Ashok Ku. 2008. "Raja Mahendra Pratap and Prof. Barakatullah in USSR - The Beginning of a New Socio-Economic Understanding." In The Contribution of Raja Mahendra Pratap and Prof. Barakatullah Bhopali in Freedom Struggle and its Importance in Contemporary Society, edited by M. Hassan Khan and Ayisha Rais Kamal, 4-14. Kolkatta: Towards Freedom; Maulana Abdul Kalam Azad Institute of Asian Studies, Kolkatta.
Popplewell, Richard J. 1995. Intelligence And Imperial Defence: British Intelligence and the Defence of the Indian Empire 1904-1924. London: Frank Cass.
Puri, Harish. 2012. Ghadar Movement to Bhagat Singh: A Collection of Essays. Chandigarh, Punjab: Unistar Books.
Ramanujan, A.K. 1989. "Is There An Indian Way of Thinking? An Informal Essay." Contributions to Indian Sociology 23 (41):43-58.
Ramnath, Maia. 2011a. Decolonizing Anarchism: An Antiauthoritarian History of India's Liberation Struggle. Edinburgh, UK: A.K Press.
Ramnath, Maia. 2011b. Haj to Utopia : how the Ghadar movement charted global radicalism and attempted to overthrow the British empire. Berkeley, Calif. ; London: University of California Press.
Raza, Ali. 2013. "Separating the Wheat from the Chaff: Meerut and the Creation of "Official" Communism in India." Comparative Studies of South Asia, Africa and the Middle East 33 (3):316-330.
Rüsen, Jörn. 2002. "Introduction: Historical Thinking As Intercultural Discourse." In Western Historical Thinking: An Intercultural Debate, edited by Jörn Rüsen, 1-11. New York; Oxford: Berghahn Books.
Russian Administration for Religious Affairs of Russian Moslems. 23 May 1923. Proclamation to All Muslims in the World. In Seventeen Moments in Soviety History: An Online Archive of Primary Sources. http://soviethistory.msu.edu/1921-2/the-muslim-east/the-muslim-east-texts/proclamation-to-all-moslems-in-the-world/.
Shahjahanpuri, Abu Salman. 1995. Maulana Ubaidullah Sindhi Ke Inquilabi Mansube. Lahaur: al-Mahmud Ikaidami.
Shaikh, Muhammed Hajjan. 1986. Maulana Ubaid Allah Sindhi: A Revolutionary Scholar. Islamabad: National Institute of Historical and Cultural Research.
Siddiqui, Noman Ahmad. 1967. "Pulls and Pressues on the Faujdar Under the Mughuls." Indian History Congress, Proceedings of the 29th Session, Patiala.
Singh, Nahar, and Kirpal Singh, eds. 1989. Rebels Against the British Rule: Guru Ram Singh and the Kuka Sikhs. New Delhi: Atlantic Publishers and Distributors.
Smith, Ray T. 1968. "The Role of India's "Liberals" in the Nationalist Movement, 1915-1947." Asian Survey 8 (7):607-624. doi: 10.2307/2642630.
Stokes, Eric. 1970. "Traditional Resistance Movements and Afro-Asian Nationalism: The Context of the 1857 Mutiny Rebellion in India." Past & Present (48):100-118.
Syros, Vasileios. 2012. "An Early Modern South Asian Thinker on the Rise and Decline of Empires: Shāh Walī Allāh of Delhi, the Mughals, and the Byzantines." Journal of World History 23 (4):793-840.
Uberoi, J. P. S. 1994. "The elementary structure of medievalism: religion, civil society and the state." Contributions to Indian Sociology 28 (1):1-34.
Uberoi, J.P.S. 1996. Religion, Civil Society and State: A Study of Sikhism. Delhi: Oxford University Press.
Uberoi, J.P.S. 2002. The European Modernity: Science, Truth and Method. New Delhi: Oxford University Press.
Vasudevan, Hari. 2014. "Asiatic Orientations of Early Soviet Socialism: A perspective on the Life and Times of
Maulana Azad." Indian Historical Review 41 (2):271-295.
Wagner, Kim A. 2013. "'Treading Upon Fires': The 'Mutiny'-Motif and Colonial Anxieties in British India." Past & Present 218 (1):159-197.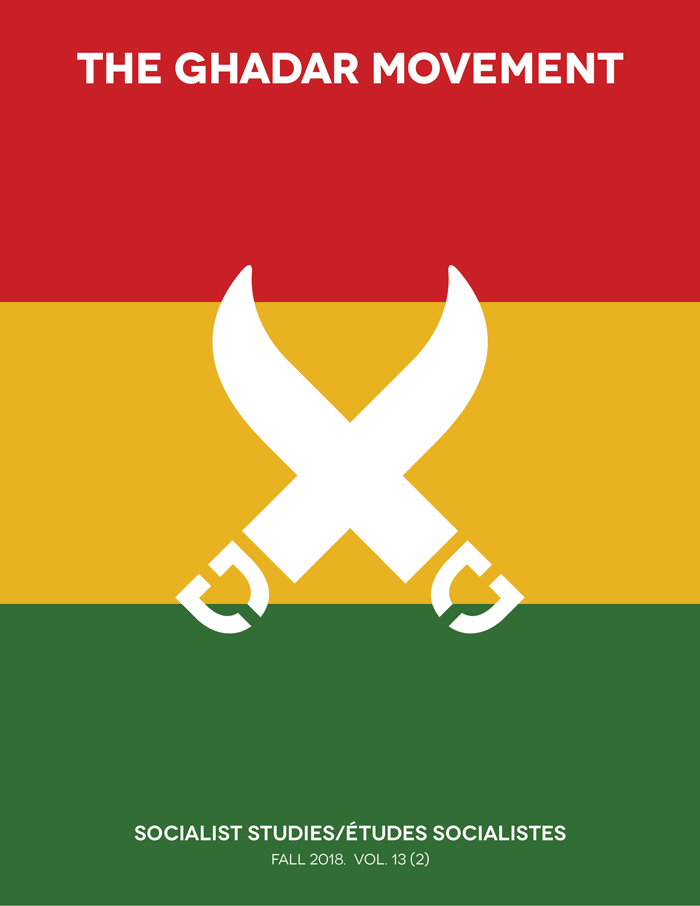 Downloads
Section
Special Issue: Ghadar Movement
License
Copyright: Authors who publish in the Journal agree to the following terms: 1)Authors retain copyright and grant the Journal the right of first publication with the work simultaneously licensed under a Creative Commons Attribution License that allows others to share the work with an acknowledgement of the work's authorship and initial publication in the Journal; and, 2)Authors are able to enter into separate, additional contractual arrangements for the non-exclusive distribution of the Journal's published version of the work (eg post to an institutional repository or publish it in a book), with an acknowledgement of its initial publication in the Journal.