"The Typical Ghadar Outlook": Udham Singh, Diaspora Radicalism, and Punjabi Anticolonialism in Britain (1938-1947)
Keywords:
Udham Singh, Indian Workers' Association, anticolonialism, labor militancy, Britain, Punjab
Abstract
Punjabis in interwar Britain, who had migrated for economic opportunity but had been politicized during successive upheavals at home, admired Ghadar's radical solidarities with nationalist and anticolonial movements. This article focuses on peripatetic Punjabi radicals, often working as pedlars and sailors, to enhance the current understanding of the vibrant relationship between the Ghadar Party and Punjabis in Britain. This article contextualizes Udham Singh's martyrdom by examining the uses to which his name and image were put in radical publications. Furthermore, the Indian Workers' Association, formed in the midst of the Second World War, was integral to articulating a Ghadarite anticolonialism in Britain, which was animated by the trial and memorialization of Udham Singh. Thus, this article argues that labor migration and the global transmission of Ghadar Party publications was integral to the Ghadar movement's influence on the struggle against imperialism in Britain in the 1930s and 1940s.
References
Archival Sources
The National Archives, Kew
Home Office
Disturbances: Indian Workers Association: 'inflammatory' tone of Azad Hind (Quit India), a bi-lingual monthly in Punjabi and Urdu.1945-1951. HO 45/25460.
Criminal: Singh, Udham Convicted at Central Criminal Court (CCC) on 5 June 1940 for murder and sentenced to death. HO 144/21445.
Metropolitan Police
Lascar Deserters. Aliens Registration Office. 1931-1938. MEPO 2/5064.
Murder of Sir Michael Francis O'Dwyer by Udham Singh at Caxton Hall, Westminster, on 13 March, 1940. MEPO 3/1743.
India Office Records and Private Papers, British Library
Public and Judicial Department
Grant of passport facilities to Indians of limited means to come to UK as peddlers etc. 12 Nov 1929-16 Oct 1939. IOR/L/PJ/7/1007, file 719.
The Ghadr Party in USA and Canada. Jan 1936-Jun 1944. IOR/L/PJ/12/284, file 1392/25.
Kirti, communist newspaper of Ghadr Party. Jun 1929-Dec 1939. IOR/L/PJ/12/300
IPI reports on Indians in North and South America: the Ghadr Party. Apr 1934-Nov 1939. IOR/L/PJ/12/285, file 1392(A)/25.
IPI reports on Indians in North and South America: the Ghadr Party. Feb 1940-Nov 1948. IOR/L/PJ/12/286, file 1392(A)/25.
Activities of Gurmukh Singh and Rattan Singh alias Isher Singh, Ghadr Party. Jan 1935-Jan 1940. IOR/L/PJ/12/288, file 1392(c)/25.
Indian Workers' Union or Association: reports on members and activities. Jan 1942-Jul 1947. IOR/L/PJ/12/645.
IPI notes on Indian organisations in UK. Apr 1942-Jun 1946. IOR/L/PJ/12/646, file 720/42.
Reports, summaries and translations of Hindustan Ghadr; Ghadr Party activities in USA. Oct 1934-Dec 1937. IOR/L/PJ/12/757, file 995/24.
Reports, summaries and translations of Hindustan Ghadr; Ghadr Party activities in USA. Nov 1937-Dec 1944. IOR/L/PJ/12/758.
Political and Secret Department
Ghadr Party Activities. 27 March 1931-28 Aug 1934. IOR/L/PS/12/1588 Coll 3/35.
Official Publications
The Ghadr Directory, containing the names of persons who have taken part in the Ghadr movement in America, Europe, Africa and Afghanistan as well as India. (New Delhi: Intelligence Bureau, 1934). V/27/262/6. IOR.
Bancroft Library, University of California, Berkeley
South Asians in North America Collection (SANA)
Singh, Rattan. "A Brief History of the Hindustan Gadar Party," BANC MSS 2002/78, Box 13.
Birmingham Archives and Heritage Service, Library of Birmingham, UK
Papers of Avtar Jouhl and the Indian Workers Association
India Office Public and Judicial Department papers. 1936-1940. MS 2142/B/3/3
Secondary Sources
Clark, David. 1975. "Recollections of resistance: Udham Singh and the IWA." Race & Class 17 (1): 75-77. DOI 10.1177/030639687501700108
Fenech, Louis E. 2002. "Contested Nationalisms; Negotiated Terrains: The Way Sikhs Remember Udham Singh 'Shahid' (1899-1940)." Modern Asian Studies. 36 (4): 827-870. DOI 10.1017/S0026749x02004031.
Fox, Richard G. 1985. Lions of the Punjab: culture in the making. Berkeley: University of California Press.
Greene, Graham. (1940). "The Cinema: Proud Valley. At the Leicester Square. Dead Man's Shoes. At the Regal." The Spectator. 164: 361
Hiro, Dilip. 1973. Black British, White British. New York: Monthly Review Press.
Josh, Sohan Singh. 1977. Hindustan Gadar Party: a short history. New Delhi: People's Publishing House.
Juergensmeyer, Mark. 1977. "The Ghadar syndrome: nationalism in an immigrant community." Punjab Journal of Politics. 1 (1): 1-22.
Lewis, Earl. 1995. "To Turn as on a Pivot: Writing African Americans into a History of Overlapping Diasporas." The American Historical Review. 100 (3): 765. DOI 10.2307/2168604
Mukherjee, Mridula. 2004. Peasants in India's Non-violent Revolution: Practice and Theory. New Delhi: SAGE.
Mukherji, S. Ani. 2011. "The Anticolonial Imagination: The Exilic Productions of American Radicalism in Interwar Moscow." PhD diss., Brown University. ProQuest (3479707)
Puri, Harish K. 1983. Ghadar movement: ideology, organisation & strategy. Amritsar: Guru Nanak Dev University Press.
Ramnath, Maia. 2011. Haj to Utopia: How the Ghadar Movement Charted Global Radicalism and Attempted to Overthrow the British Empire. Berkeley: University of California Press.
Raza, Ali. 2013. "Separating the Wheat from the Chaff: Meerut and the Creation of 'Official' Communism in India." Comparative Studies of South Asia, Africa and the Middle East. 33 (3): 316-330. DOI 10.1215/1089201x2378112.
Singh, Navtej. 2007. "Reinterpreting Shaheed Udham Singh." Economic and Political Weekly. 42 (48): 21-23.
Sivanandan. A. 1981. "From Resistance to rebellion: Asian and Afro-Caribbean struggles in Britain." Race & Class 23 (2-3): 111-152. DOI 10.1177/030639688102300202.
Stadtler, Florian. 2012. "'For every O'Dwyer...there is a Shaheed Udham Singh': The Caxton Hall Assassination of Michael O'Dwyer." In South Asian Resistances in Britain, 1858-1947, edited by Rehana Ahmed and Sumita Mukherjee, 19-32. New York: Continuum.
Sweet, Matthew. 2005. Shepperton Babylon: the lost worlds of British cinema. London: Faber and Faber.
Tatla, Darshan Singh. 1999. The Sikh Diaspora: The Search for Statehood. Seattle: University of Washington Press.
Upadhyay, Nishant, ed. 2014. Special Issue: Sikh Formations: Religion, Culture, Theory 10 (1).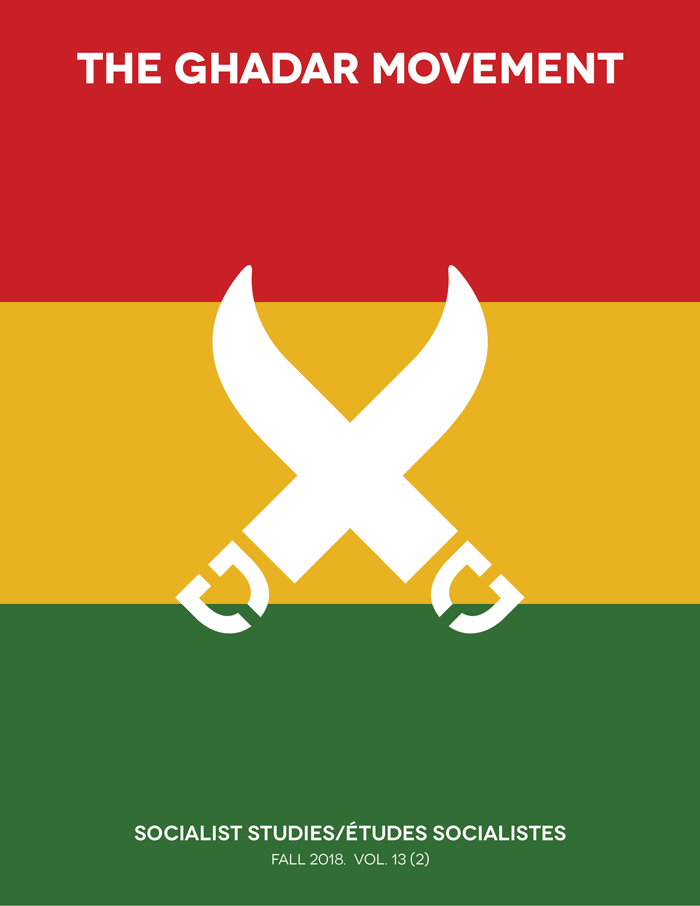 Downloads
Section
Special Issue: Ghadar Movement
License
Copyright: Authors who publish in the Journal agree to the following terms: 1)Authors retain copyright and grant the Journal the right of first publication with the work simultaneously licensed under a Creative Commons Attribution License that allows others to share the work with an acknowledgement of the work's authorship and initial publication in the Journal; and, 2)Authors are able to enter into separate, additional contractual arrangements for the non-exclusive distribution of the Journal's published version of the work (eg post to an institutional repository or publish it in a book), with an acknowledgement of its initial publication in the Journal.