Stuart Hall's Legacy: Thatcherism, Cultural Studies and 'the Battle for Socialist Ideas' during the 1980s
Herbert Pimlott

Wilfrid Laurier University
Keywords:
Stuart Hall, Thatcherism, Public Intellectual, alternative media, Raymond Williams, Cultural Studies, socialism
Abstract
While few analyses of leading cultural thinkers and scholars, such as Raymond Williams and Stuart Hall, consider their roles as socialist public intellectuals, engaged in the on-the-ground debates around party and/or movement strategy and tactics for the Left, such involvement can contribute to making their work more influential as scholars and their work as scholars can contribute to making their political interventions more efficacious. This paper focuses on Stuart Hall's role as a socialist public intellectual and his 'Thatcherism' thesis during the 1980s and argues that part of the latter's success was not necessarily due to the veracity of its analysis so much as the position of the author and the production and distribution of the ideas. 
References
Francis Beckett (2015) 'Lessons from Labour's Wilderness Years', TotalPolitics.com (http://www.totalpolitics.com/print/4358/lessons-from-labours-wilderness-years.thtml accessed: 17 November 2015).
Chun, Lin. 1993. The British New Left. Edinburgh: Edinburgh University Press.
Davidson, Alastair. 2008. 'The Uses and Abuses of Gramsci', Thesis Eleven 95: 68-94.
Eagleton, Terry. 1984. The Function of Criticism: From The Spectator to Post-Structuralism. London: Verso.
Hall, Stuart. 1980. 'Encoding/Decoding', in Culture, Media, Language, edited by S. Hall, D. Hobson, A. Lowe and P. Willis, London: Hutchinson Education, pp.128-138.
Hall, Stuart. 1979. 'The Great Moving Right Show', Marxism Today vol.23, no.1: 14-20.
Hall, Stuart. 1980. 'Cultural Studies: Two Paradigms', Media, Culture & Society 2: 57-72.
Hall, Stuart. 1981a. 'The Whites of their Eyes: Racist Ideologies and the Media', in Silver Lining, edited by George Bridges and Ros Brunt, London: Lawrence and Wishart, pp. 28-52.
Hall, Stuart. 1981b. 'Notes on Deconstructing the Popular', in People's History and Socialist Theory, edited by R. Samuel, London: Routledge and Kegan Paul, pp. 227-240.
Hall, Stuart. 1982. 'The Battle for Socialist Ideas in the 1980s', in The Socialist Register, edited by M. Eve and D. Musson, London: Merlin, pp. 1-19.
Hall, Stuart. 1984. 'The Culture Gap', Marxism Today, vol.28, no.1: 14-18.
Hall, Stuart. 1988a. 'The Toad in the Garden: Thatcherism Among the Theorists', in Marxism and the Interpretation of Culture, edited by Cary Nelson and Larry Grossberg, Basingstoke: Macmillan Education.
Hall, Stuart. 1988b. The Hard Road to Renewal, published by Verso in association with Marxism Today.
Hall, Stuart and Les Back. 1997. 'At Home and Not At Home: Stuart Hall in Conversation with Les Back', Cultural Studies 23(4): 658-687.
Hall, Stuart, Chas Critcher, Tony Jefferson, John Clarke and Brian Roberts. 1978. Policing the Crisis: 'Mugging', the State and Law and Order, London: Hutchinson.
Hall, Stuart and Martin Jacques, Editors. 1983. The Politics of Thatcherism. London: Lawrence & Wishart with Marxism Today.
Hall, Stuart and Alan O'Shea. 2013. 'Common-sense neoliberalism', Soundings, 55: 8-24.
Harris, David. 1992. From Class Struggle to the Politics of Pleasure: The Effects of Gramscianization of Cultural Studies, London: Routledge.
Hobsbawm, Eric. 1978. 'The Forward March of Labour Halted?', Marxism Today 22(9): 279-286.
Jacques, Martin and Francis Mulhern, Editors. 1981. The Forward March of Labour Halted? London: NLB/Verso with Marxism Today.
Jones, Paul. 2004. Raymond Williams's Sociology of Culture: A Critical Reconstruction. Basingstoke: Palgrave Macmillan.
Rowena Mason. 12 September 2015. 'Labour Leadership: Jeremy Corbyn Elected with Huge Mandate', The Guardian (http://www.theguardian.com/politics/2015/sep/12/jeremy-corbyn-wins-labour-party-leadership-election accessed 17 November 2015).
McGuigan, Jim. 1992. Cultural Populism. London: Routledge.
Miller, David. 2002. 'Media Power and Class Power: Overplaying Ideology', in The Socialist Register, edited by Leo Panitch and Colin Leys, Pontypool: Merlin Press, 245-264.
Milner, Andrew. 2002. Re-Imagining Cultural Studies: The Promise of Cultural Materialism. London and Thousand Oaks, California: Sage.
O'Shea, Alan. 1984. "'Trusting the People': How does Thatcherism Work?", in Formation of Nation and People. London: Routledge and Kegan Paul.
Peck, Janice. 2001. "Itinerary of a Thought: Stuart Hall, Cultural Studies, and the Unresolved Problem of the Relation of Culture to 'Not Culture'", Cultural Critique, 48: 200-249.
Pimlott, Herbert. 2005. "From 'Old Left' to 'New Labour': Eric Hobsbawm and the Rhetoric of 'Realistic Marxism'," Labour/Le Travail, 56, pp. 175-197.
Pimlott, Herbert. 2014a. 'Stuart Hall: An Exemplary Socialist Public Intellectual?', Socialist Studies, .
Pimlott, Herbert. 2014b. "'Militant Entertainment'? 'Crisis music' and political ephemera in the emergent 'structure of feeling', 1976-83", The Subculture Network (ed), Fight Back: Punk, Politics and Resistance, Manchester: Manchester University Press, pp. 268-286.
Pimlott, Herbert. Forthcoming. 'Wars of Position': Marxism Today, Cultural Politics and the Remaking of the Left Press, 1979-90. Leiden: Brill. Historical Materialism Book Series.
Thomas, Peter D. 2009. The Gramscian Moment. Leiden: Brill.
Williams, Raymond. 1977. Marxism and Literature. Oxford: Oxford University Press.
Williams, Raymond. 1983. Towards 2000. London: Chatto and Windus/Hogarth.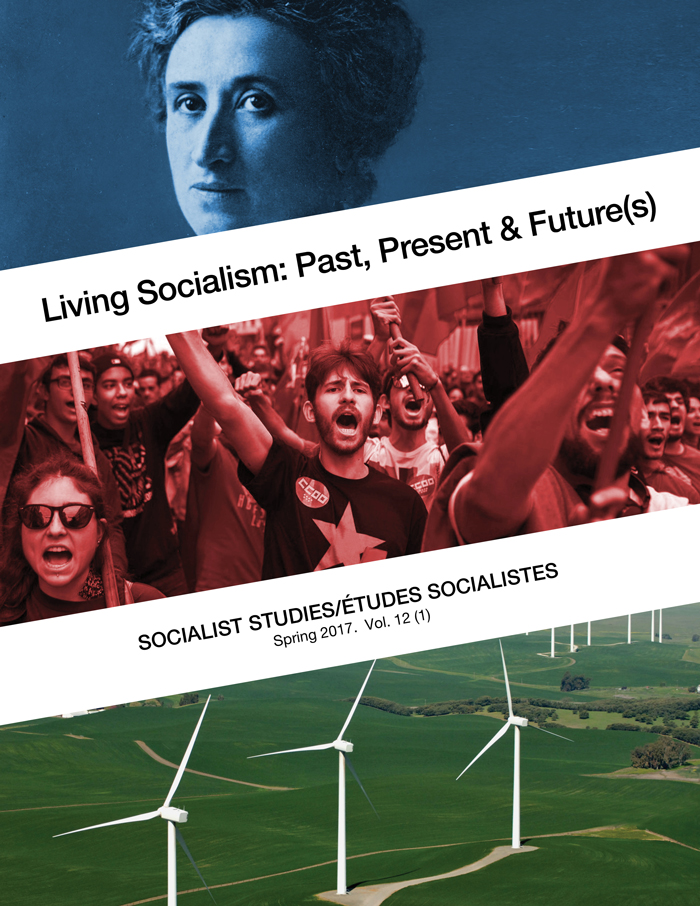 Section
Critical Commentary
Copyright: Authors who publish in the Journal agree to the following terms: 1)Authors retain copyright and grant the Journal the right of first publication with the work simultaneously licensed under a Creative Commons Attribution License that allows others to share the work with an acknowledgement of the work's authorship and initial publication in the Journal; and, 2)Authors are able to enter into separate, additional contractual arrangements for the non-exclusive distribution of the Journal's published version of the work (eg post to an institutional repository or publish it in a book), with an acknowledgement of its initial publication in the Journal.